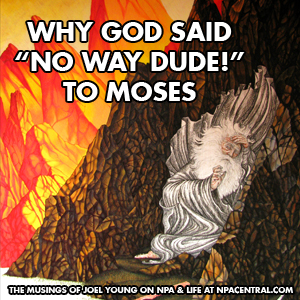 In our positively polarised new-age culture, it is often said that God (or The Universe) always says yes. But there's a Biblical story from the old testament which illustrates an important reason why there's something God says 'no' to and the gift that this denial gives to each and every one of us…
No Way Dude
Moses in the Old Testament beseeched God to make himself known to him. God said "No way dude, you'd be annihilated" (I paraphrase) ;0)
Essentially this story points to God, Divinity as the unknowable mystery. No single being can encapsulate the infinite.
So Moses badgers God who finally agrees to let His shadow fall briefly across him. And in that moment Moses' hair turns instantly grey and he runs mad around the dessert for 40 days and 40 nights…
This story reflects the deep longing within each human individual to connect with the unknowable – as voiced by Moses in the story.
A Finite Interpretation Of The Infinite Mystery
It further illustrates how even the slightest conscious awareness of that longing will give birth to a story, a shadow of the Truth. In other words; a perspective, a filtered translation or finite interpretation of the infinite mystery.
Then, my awakened friends, the trap of "I have it" is set. In other words we have tendancy to make our interpretation THE definitive truth, and then preach it as such to others.
In non-personal awareness we move from these subtle (and not so subtle) declarations of absolute truth, to a deep understanding that we each have a unique perspective on reality. It's the acknowledgement that all we have is our story, and that our story connects us to the unknowable truth of what is.
An Air Of Discovery
When you surrender to the humbling awareness of this, you can begin to enjoy yours and other people's stories, taking them lightly and entering conversations with an air of discovery and unattached passion.
So enjoy your story of Divinity, knowing it connects you somehow to the unknowable.
Please comment, like & share with your friends
[JY-General-Bio]