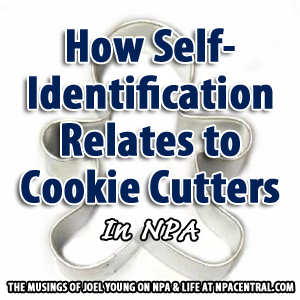 Time to dive a little into the human and energetic mechanics behind The NPA Process… This little post is for the tech heads, psychology nerds, ever-curious 'how-do-dat' folk and NPA skill seekers everywhere. I'm going to pull back the veil a bit on the art and nature of how we spot those cookie cutters.
Now, just in case you turned up here cold and oblivious to NPA, boy you lucked out! 😉 The NPA Process is a beautifully simple way, that anyone can use, to stop taking things personally. And the best place to start is here: A perfect NPA starter exercise
OK… let's dive in…
Picking Up Animation In A Spew (And how it relates to Identity)
When you're in a crowded room and someone on the other side of it mentions your name, your awareness heightens – you pick it up, you are tuned to it. You don't have to think about it, you are already pre-set to notice what you recognise as 'You' above all else.
In the same way, when you are (to use the NPA vernacular) spewing, you are listening for that which you recognise as 'your self' (in other words, for the expressions of self identity).
These cookie cutters naturally pop out to you a little more than the rest of the spew. What we are really doing then, as we listen for the animation, is mapping our self-identifications. And it bares repeating that we are already pre-set to do this. We are already unconsciously competent.
#ThatsMeThatIs
This recognition of Self is like an energetic signal that broadcasts "that's me that is" – like an energetic hashtag. A cookie cutter is 'tagged' when it is actively connected to our self-identity – cool huh?
The natural question then is "So how come we can spot other peoples cookie cutters?"
Well, just as in your fave social media feed, whether you have written #ThatsMeThatIs or they have… it's still easy to spot when you're looking for it right? As an observer of another's spew, it is the noticing of that signal, that 'tag' which creates the popping out effect and indicates the cookie cutters as they arise.
GET THEÂ NPA KEY WORD CHEAT SHEET
The link below is a 'back door' to a special 75% off offer on my essential guide to finding NPA cookie cutters
Simplicity
It's nice to know this stuff, and at the end of the day, I would always encourage you to continue to let it be as simple as it is: Listen to the spew, notice what pops out to you, feed it back.
If you have any questions, please go ahead and ask them in the comments below.
Love & Blessings, as ever,
Joel Young (#ThatsMeThatIs)
Creator & Custodian of NPA
[JY-General-Bio]