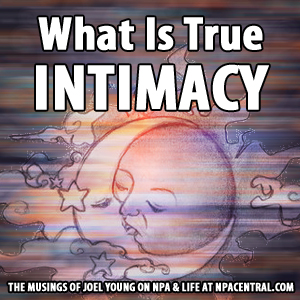 For me, intimacy is about listening and deeply hearing.
It's about empathy and feeling – not just broadcasting your own feelings and ideas but connecting with the other's:
It requires going beyond the self.
It's about letting go into each other, surrendering in physical and emotional exploration, just for the love of it and nothing more.
True intimacy can seem paradoxical.
It is the risk of sharing AND the risk of receiving.
In sharing you might not be received.
In receiving, you might not be right… oh dear…
But intimacy, my friend, is worth the risk.
There can, of course, be love without intimacy…
Love can stand alone…
But intimacy takes two wall-less wonder-ers…
Two willing risk takers…
Exploring each others realms…
[JY-General-Bio]