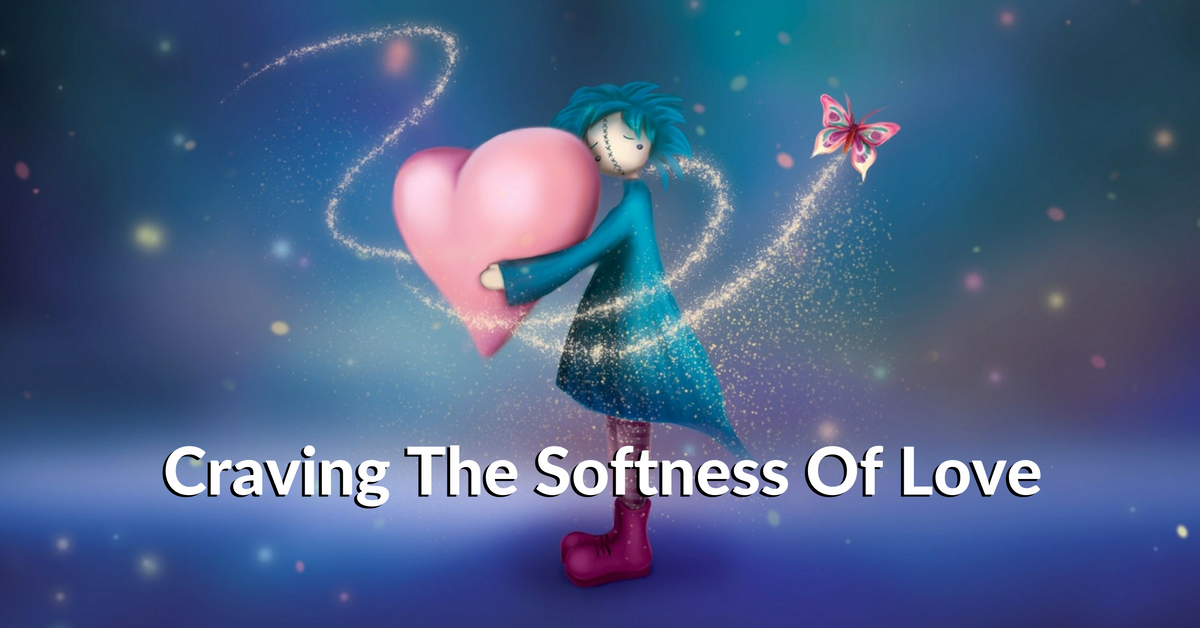 Has the rawness of love left you baffled?
Has it left you bruised and beside yourself with inexplicable feelings?
If so, then there's a good chance that you are craving the softness of love.
Perhaps you crave forgiveness? Perhaps you crave kindness..? Tenderness..? Warmth..? Reassurance..?
You probably long for a soft place to land and to be soothed and understood?
Craving & Missing Needs
Craving in the emotional heart, just as in the physical body, is a sign of imbalance.
Physiological craving is a sign that the nutrients the body feels it needs are missing.
Emotional craving is a sign that the nurturing the heart feels it needs is missing.
There is also a tendency with craving to look outside… To search for a source.
In fact the most painful cravings are often where the source fixated on gives you something you could very well generate yourself and yet you form the habit of getting it from a singular external source which may be in limited supply.
For example the body naturally makes nicotine, yet a smoker will crave cigarettes as its source.
When the source is not around the cravings can go bananas – shouting and screaming in the body… Demanding that the source be acquired and consumed.
This pattern works as much in the heart as it does in the body.
Bad Idea
One solution of course is to find another, or maybe several other external sources; More drugs, more partners. But ultimately that creates a vicious cycle.
Been there. Done that. Got the T-shirt.
And I see it time and again with new clients (and I say 'new' because we address this in our sessions):
There's a thirst, a hunger, a desert-made desperation that comes from a lifetime of seeking and failing. And because I spent so long in that desert myself, I understand that we hide the need… even from ourselves… making it 'not that important', 'not that bad' or telling ourselves and others "I've got it handled".
It can be hard to admit it, but if deep down your heart still aches and craves… you know your kidding yourself.
What to do then?
This is one of those answers that the craver rarely likes. But here goes:
You must find your own softness…
Your own kind sweet loving self…
Your own reassuring, tender warmth.
It's at your centre where balance is effortless.
But the road there is not without its challenges…
Challenges
Going there may mean you need to meet the powerful emotions that have guarded your gate for eons. Perhaps it's rage, perhaps it's terror, perhaps it's the deepest unworthiness?
And meeting them is likely the near opposite of the comfort you're after. It's that rawness again.
So it's really a choice:
To see it through and meet yourself and the freedom it brings.
Or turn back to the false comfort of craving and go round the circle again.
One of the great things about having NPA at your disposal though, is that often meeting those deep uncomfortable spaces can be quicker and easier than perhaps you've experienced before. In fact the primary hurdle is often the decision you have to make; whether that's to do it yourself, or with the kindness of help.
Let me guide you to the softness of love with some 1:1 sessions…
Kazy-Vincent Janes, a client from the UK said:
"A brilliant session and just perfect – thank you for amazing ability to hone and tune and hold and guide so superbly and uniquely for me"
But if I am what I am seeking will I be alone..?
No sweetheart.
It's not about you OR relationship.
It's about experiencing a relationship WITHOUTÂ YOU… OR experiencing a relationship WITH YOU.
And the latter is Divine, juicy, free and delicious…
No cravings required…
Big soft love my friend ❤️🙏🏼❤️
[JY-General-Bio]