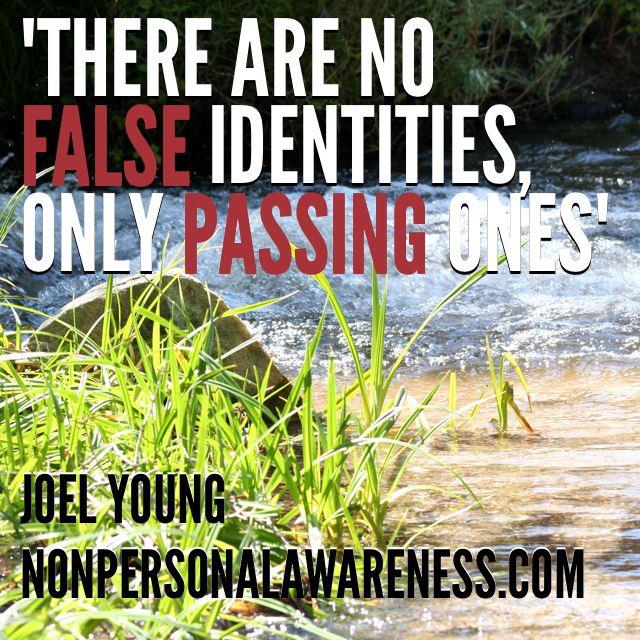 It's an odd notion that any identity would be false while another is real, and yet this is often the backbone of modern spiritual teachings and personal growth approaches.
It's a seductive idea that appeals to the mind's comparative and dualistic sense of reality.
As with everything, there is a context where the concept of false selves serves a purpose or seems useful, but as far as genuine spiritual investigation is concerned, it's a misguided and confusing idea.
A Term
The "real" self is a term which refers to some named or implied state or perspective. Perhaps it's called 'higher', 'freer', even 'the Soul' or some derivative. In any case all are identities on some level and so subject the the life cycle of experience i.e. it comes, it is experienced, it passes.
All experience is the illusion, and so in terms of real and false, they are equally false. So there are no false identities, only passing ones.
The problem is the use of the term Self and Real together. For in what is real, there is no self.
Genuine Spiritual Investigation
Seeking some notional 'real' self necessarily causes you to make some other 'self'  invalid or wrong. The irony is that this is the  fundamental seed of all suffering. The judgement perpetuates the karmic cycle and is ultimately a distraction from genuine spiritual investigation. So, I invite you to drop the judgement and simply notice what is.
Imagine the currently experienced self as a cloud and experience it as it is. Sometimes you'll notice clear skies, sometimes the cloud(s) will be high and barely have much impact on you. Sometimes the clouds are so low that it can seem like you're in a never ending fog.
None-the-less, as you become present to each experience, you'll begin to notice that, whatever the weather, it passes. And the still quiet presence that is the noticer really has nothing to do with its progress.
When this distinction is truly clear; then genuine spiritual investigation can begin.
Joel Young
www.NonPersonalAwareness.com
Please share, if you feel this perspective could enrich your freinds lives :0)
[JY-General-Bio]