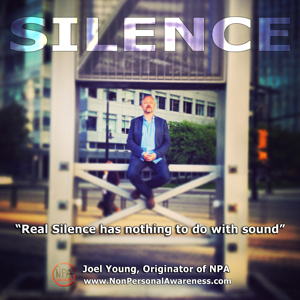 Real Silence has nothing to do with sound. There is an inner Silence that is always available, no matter what clamber and clatter surrounds you.
The Dance
I have sat with meditation "masters" who would go to great pains to control the environment, and especially noise in the room. I even remember an occasion where the teacher sent a staff member from the seminar room and out to the other side of the street. He was tasked to entreat the gentlemen who were minding their own and drilling the road, to please, in the name of Grace, shut the F*$# up… at least until we had finished meditating. As a testimony to the staff members charm and Grace, they actually DID shut the F*$# up, rather than telling him to do the same.
This dance was based on the notion that the energetics of the space are disturbed by external noise, which in turn can prohibit good meditation.
While I acknowledge that an outer reflection of silence can support ones ability to notice a true inner silence, or at least highlight the noise in your head, the association of the two can ultimately be misleading.
True Silence
True Silence is never disturbed. Not by anything, and certainly not by noise. True Silence is a backdrop of total absence, against which the noise of experience, the one song, can be perceived.
Versions of the 'Silence Please!' dance don't always come as grossly caricatured as the example I gave. It's mostly a subtle thing, an irritation or a need for such-n-such to be just-so before true bliss can be realised.
If you find your sacred meditation space invaded by noise, and these controls and avoidances (cloaked as 'honouring') arise, then I invite you to be still… let your meditation be to notice the Silence beyond the noise. Here you will find the secret to peace in the storm of life.
Namaste. Tick-tock. Om Shanti. Woof Woof Woof. Peace &… Nee-Noorr-Neee-Nooorr. …Love my friend 😉
[JY-General-Bio]