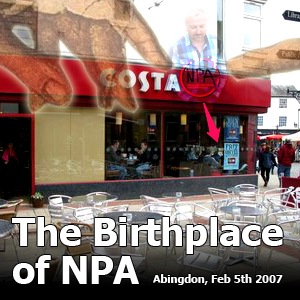 As this post get's published it's NPA's 7th birthday!
It seems like ages ago that it popped out of me in Costa's in Abingdon. It tickles me that Divine births can happen in the most ordinary places.
There I was in my own little vortex of guided communication while around me; kids were squashing the remains of muffins into hot chocolate soaked saucers; an amazing carer calmed the colourful tourette's syndrome shouts of her ward; a suited salesman wheeled and dealed on his phone and mid-life girl friends supported each others judgements about the this and the that of their lives…
And in amongst all that, six little lines that would rock my world (and countless others) just popped out. Lot's of people have told me they were inspired by the story of 'how NPA was born' so I thought I would share it here amongst the Musings of NPA & Life. If you share this post you can watch a video of me sharing the story, and help spread the word about NPA… otherwise – simply enjoy the read:
The Birth Of NPA
"I've been working in the field of human consciousness and personal growth for approaching 20 years. Back in 2007 I'd had the privilege of working with many amazing people and yet…
On 29th January 2007, I was sat in a Costa coffee shop in Abingdon, Oxfordshire where I lived and quite literally a prayer was 'born' through me and it went like this:
"OK God," Grace, whatever you want to call that, "Is there something specifically that wants to come through me, in service to the world… and if there is, please let me know?"
I'm very clear about this. If the answer was no, then that would have been really fine. I'd have happily just carried on teaching what I was teaching.
However, literally a week later (on February 5th) I was in the same coffee shop, journaling on my computer when the six simple lines that I now call the NPA Process literally popped out of me! They came with that tingley-wingley sensation – which is sort of a signal to me. It was like, "This is the answer to your prayer. There will be seminars and books."
You Have To Be Kidding Me
My response was, "You have to be kidding me. That's just too simple, too easy!" But I've discovered that the simplicity of NPA is its genius in as much as it means it can be used in so many different ways and yet it's really, really powerful.
For quite a long time I kept it very, very close to myself. I wanted to discover for myself, through direct experience, what this 'Non-Persoanl Awareness' was? And it quickly busted many of my illusions – the things that I'd learned and taught for all those years were really challenged by this little NPA thing.
It wasn't until 2008, in November, that I first taught it publicly and not until 2009 February when I first taught it in an official way and since then it's just exploded. It's in countries all over the world and that's down to the fact that it's so simple and it just works."
[JY-General-Bio]