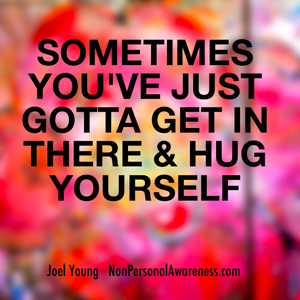 If you tend to rationalise the crap out of feeling alone, well I understand.
Especially on 'Saint bloody Valentines day'…
Maybe you question why you haven't got that special someone with you and berate yourself with some bugger's reason why you should have.
Perhaps you rage at the vulgarity of Valentines commercialism and scorn the couple's who fell for it; displaying their loved up life on Facebook like a badge of honour. Perhaps you quietly, secretly, wish them a nasty break up.
Perhaps you hide your heart in the Haagen-Dazs pot – cookies and silent scream.
These are culturally acceptable strategies for dealing with feeling alone. They are seriously rubbish and usually serve to make you feel worse.
Here's the thing. You need a hug.
(And, by the way, the same goes for Christmas, New Years, Birthday's and all those traditionally 'social' occasions…)
You Need A Hug
And I'm not talking about one of those civilized, love & light, bromance kinda hugs you see happening everywhere these days – although I've gotta say I'm all for them over a hand shake, an air kiss or an awkward stand-off.
No, I'm talking about one of those uncompromising, unhindered, full out, full on, 'I'm totally f***ing here – this moment is. my. everything.' kinda hugs. A hug that says everything you ever wanted to hear without a single word being said. A hug that has exactly nothing to do with sex or orgasms and yet gives every cell in your body the deepest permission to sing and cry and laugh and scream in one dizzy, crazy, out-of-control yet safely held moment. A hug that says yes to everything you are, everything you've been and everything you long to become.
THAT, dear reader, is the hug I'm talking about.
The Big Question
And here's the big question: Can you feel it? As you read the description of the hug – did you feel it? Can you go there? Can you LET yourself touch into it?
Because, while it's flippin' wonderful to get that from someone else, the truth is there are parts of you that are looking for THAT kind of hug from you, and only you. In the same way that sometimes toddlers just need their Mum, and no one else will do – not even Daddy. This can be true whether you are in a wonderful relationship, a crappy relationship or no relationship. Sometimes you've just gotta get in there and hug yourself!
A Deep, Out-Of-Control, Yet Safely Held Moment
This week I worked with a client in his 30's who had undergone a very traumatic event when he was 18. Out of the experience a great deal of positive inner searching, personal and spiritual growth had come and yet he, his 18 year old traumatised consciousness, was still somehow alone and locked down. For all the work he'd done and help he'd got, this inner kid needed to feel it. He needed to down-to-his-bones know: he wasn't alone anymore. He needed THAT kind of hug.
And no, I didn't give him that hug. I simply helped him to realise the man he'd become was the one that his 18 year old self was looking for. And helped him to realise that the man he'd become was ready; that all that he'd been through, all that he'd been inspired to learned and all the ways that he'd grown meant he could finally meet his younger self, hold him and give him THAT kind of hug.
It was indeed a deep, out-of-control yet safely held moment. And although he hardly moved a muscle – it was a deeply physical experience and the key that unlocked his long held defences and set him on the road to outward fulfilment.
Your Turn
So, if you're alone this Valentines, or at any time – whether you're single or in a relationship but not getting that hug – perhaps it's you you're looking for – and you wont settle for less. If you can even begin to connect emotionally with my description of 'THAT kind of hug' or it points you to your own description that you can connect with then you've gone a long way to finding the perfect love today.
If you wanna go for it, then…
I invite you to imagine there's a younger self that's looking for THAT kind of hug today. It doesn't matter how old she or he is – whatever age 'you', shows up in your sense or imagination is perfect. And if there are many – form a queue – there's plenty of hugs to go around, and just pick one for now.
Once you have a sense of them, just feel, sense or see yourself go over to them and connect. You're ready, so just take them in your arms and give them THAT kind of hug. If it helps to re-read my description – great, do that. Or simply feel your way through it organically – you know what they need. You know what you need. Hug it out.
And if you would like help with that, you know where I am.
This is my Universal hug for you this fine day, and I hope it touches your heart and makes your world a little brighter.
Please share the hugging love and let me know what you experienced in the comments.
[JY-General-Bio]