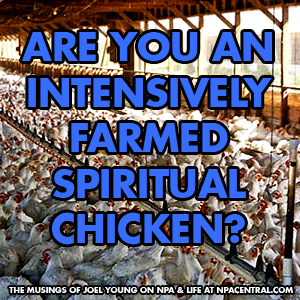 OK. So that might seem like an odd question to ask you, but here's the thing:
Forcing your personal growth or Spiritual evolution is like pumping chickens full of growth hormones…
If you don't believe in pumping chickens full of growth hormones or farming vegetables through artificial growth processes, and yet find yourself cracking the whip on yourself in the name of healing, personal growth or spiritual progress then I invite you to take a gentle look at the energetic environment you're hanging out in.
Disregard For Natural Order
It's the same consciousness that engages that behaviour in both situations. It comes from the belief that pushing hard and forcing things beyond their natural pace pays dividends. And perhaps also the fear that NOT pushing means no growth at all.
In both cases it can seem to achieve what you want in the short term and yet, the unkindness and disregard for natural order inevitably makes it unsustainable. At some point a backlash needs to happen. To put that another way… Nature asserts itself eventually.
Plus, chances are, the road of Force is a hard and fun-less journey for all involved!
Let Yourself Be
Let yourself be, and you'll begin to connect to the natural rhythm of life, which offers smooth steady evolution AND exciting effortless growth spurts, all in joyful harmony.
I'd love to get your comments and have you share this blog. And if you do share, then you'll unlock some extra content: "Cluck or Yuk -Â  Six Choice Checks for Spiritual Chicks" (Including man-chicks. I'm going with aliteration over gender vernacular and demographic accuracy)
Have a Natural Day – Joel x
 
Joel Young
http://www.NonPersonalAwareness.com/
Comments, shares and likes welcome!
[JY-General-Bio]