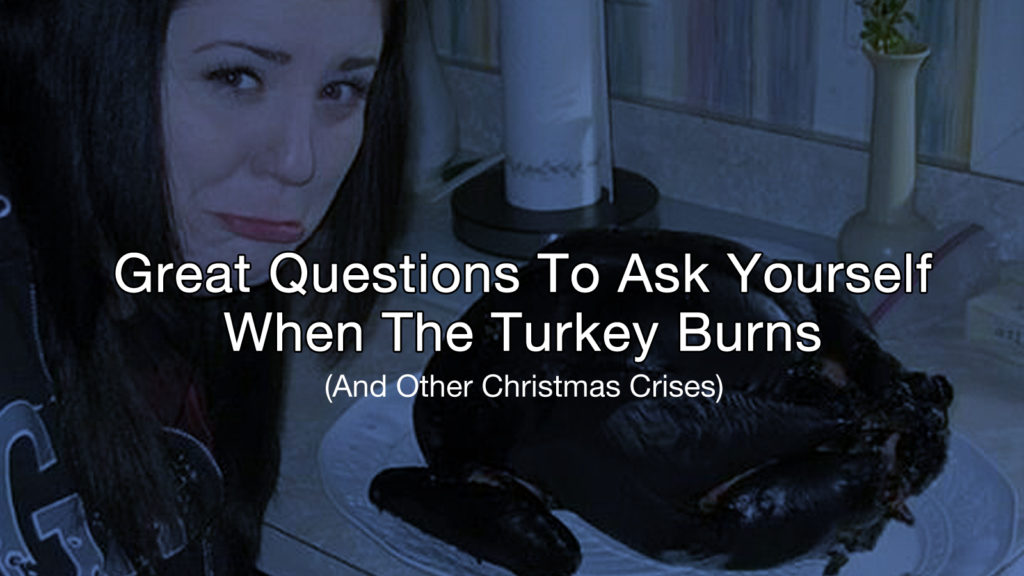 Of course, as a positive thinker, I'm aware that you're going to be cosmically ordering the perfect Christmas – more than likely online.
You know the perfect Christmas I'm talking about right..?  The one that goes according to your plans…?
Well, just in case the cosmos has an 'Amazon on a bad day' moment; the stuffing hits the proverbial fan and – in spite of your many years of meditation -Â  you slip out of 'enlightened mode' for a split second…
I thought I'd offer you some questions you can ask yourself to help you set the baubles straight on your aura… 😉
TOP TIP: While these questions are focused on resolving potential Turkey drama, they can also be powerful allies in all manor of Christmas Crises…
Question 1:

What would Jesus do?
This would be my first response – it is Christmas after all! I actually don't think there's ever a time where channelling a bit of The Divine Christ Consciousness won't perk you up.
Of course if you've "so done the Judeo Christian thing" then feel free to channel your latest fave Divine Being – I'm sure they'll have a wise word or two on your blackened fowl.

Question 2:

What was the intended consequence of  serving perfect turkey and how else might I still experience that?
If you're the practical or creative sort, this is the question for you!
I'm a great believer in the adage that an intention doesn't put all it's eggs in one basket. There's going to be another way to make 'em smile with merry cheer – if that was your intention.
Like an eager understudy the alternative means to your end is right there in the wings; waiting for the signal that it's going to have it's moment.  It's as keen to be seen as you are to see it and when you completely let go of your idea of how it should be, the understudy will make it's entrance on the fleet foot of inspiration.

Question 3:

What if this is what perfection looks like?
For all you hard core awakened Souls: sometimes you just gotta go Eckhart Tolle, on it's ass!
The eternal bliss of embracing 'The Power of Now' will surely help you see the innate perfection of the moment…
Here's your quick guide:
Don your best tank top, take a few minutes in silence, empty your mind and breeeaaathe… Look your 'Pain Body' in the eye and give it your best Beavis & Butthead chuckle. Let that joker know that you see through the its game and that IT is the only thing that won't end up being fed this Christmas.
Bliss, peace and enlightenment is assured… namaste
Question 4:

How would Billy Connolly tell this story?
OK, so let's not get too fixated on Billy. If you haven't heard of him, google him (he's a British comedian) and consider it a pre-emptive self-preservation manoeuvre. And, if Billy's not your scene…? C'mon, really? Well you can use your favourite comedian…
As Al Murray, The Pub Landlord (another Brit comedian) says, "The point is this…" – Looking at the funny side can be the best balm when you've burnt your bird.
Get Set For A Christmas without Taking Things Personally…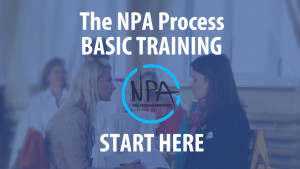 "This video programme gives you the core training for The NPA Process so you can start taking yourself from triggered states and stress to centred-ness and peace in as little as 45 seconds…"
Question 5:

Is it time I went vegetarian?
Sometimes when shit happens, it's a sign.
OK, so it might not be the veggie thing, but whatever's come unplanned may be giving you a signal? Perhaps there's something better than what you expected on it's way right now? You just have to have the eyes to see it, and an open heart to let it in (everybody say 'Awww')
Not the quickest of fixes this one, but good for the Soul.
Question 6:

What am I experiencing that I would like to allow to pass?
Did you see what I did there?
Yes, that's Q1 from The NPA Process – and if you've done any NPA then this question will put you into unfettered express mode – or as I like to call it – a spew.
A spew without judgement or holding back, by itself, can be a great relief and instantly avoid PTPS (positive thinking pressure syndrome)! PLUS you get to find a cookie cutter, NPA it, stop taking it personally and (with a smile) stumble forward gracefully in whatever wholesome way works best for you!
Now, if you don't know your spew from your cookie cutter or what the NPA I'm talking about…
a) You lucky thing, you – you've just happened across the simplest way I know to stop taking things personally! The NPA Process has been described as a '45 Second Miracle' which can help you let go of the 'yucky stuff' and let in the 'yummy stuff' of life. It's transforming lives in over 18 countries as people realise that using this practice sets them free from the fear and effect of other peoples opinions, negative criticism and projections. It's helping people totally shift their sense of self at the highest level and in the everyday world of 21st century human experience – bringing lightness, laughter and ease to both the mundane and major challenges of life.
b) With a little basic training you can get up and running with the practice fast, and start feeling the release and peace around your burning issues (that so many people report) in short order. There's definitely an 'art' to getting the most from it and accessing the deepest transformations it brings over time… so…
c) You better buy yourself THIS for Christmas… And remember: NPA (and what it gives you) is for life, not just for Christmas! 😉
In any case, DO have a lovely Christmas – whatever happens!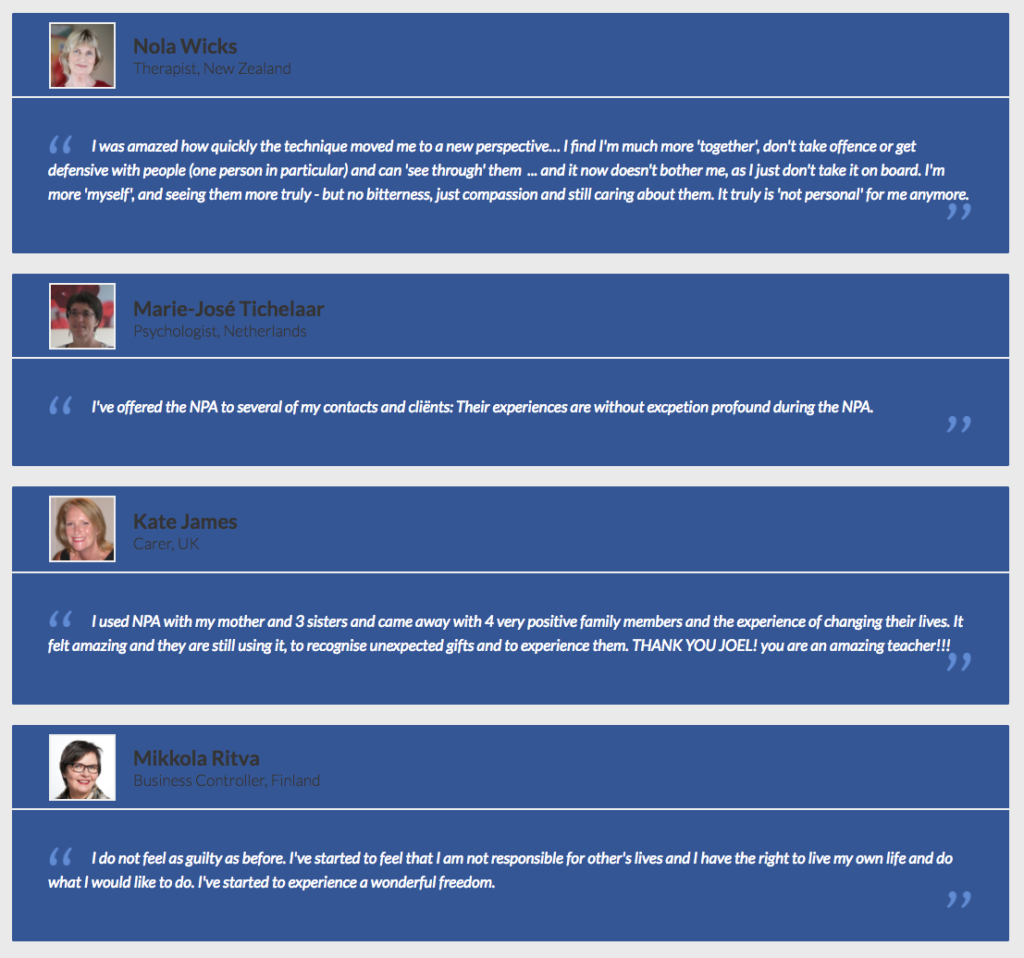 [JY-General-Bio]