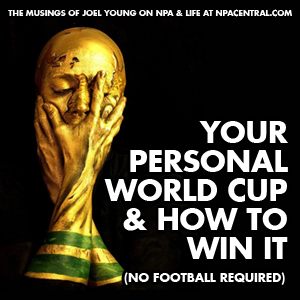 The air is alive with World Cup fever this month. It's something that comes around like clockwork, fills the participant nations with high emotion and has the potential to deliver the highest of highs and the lowest of lows.
How, thought I, could I possibly relate this footie-phenomena to the joys of a non-personal perspective in a personal world?
Well, if you'll pardon the pun, it turns out that it offers us a golden opportunity for self reflection and a shot at deeper freedom…
Identity Crisis
The other day I caught one of those 'count down' TV programmes, the World Cup Top 100 something-or-others, and what I noticed is that we hold distinct national 'identities', which directly relate to 'what we are like' in the World Cup.
For example – England are rubbish at penalties, Irish fans expect nothing but have the best time, Cameroon are likeable rogues, Germany are efficient and effective; always in contention etc etc.
It's intriguing that the identification each nation has taken on in relation to their World Cup experience, seems to play itself out again and again. The thing is, the same mechanism is operating in our individual lives; we each have our own 'World Cup' event, we have assumed an identity in relation to it, and we play out this identification as our habituated track through the event. With a sigh we are left wondering why it happened pretty much the way it always does.
Of course, if you're a Brazil, an Argentina or a Germany in relation to your personal World Cup, then chances are you feel pretty happy with how things pan out.
However if you're an England and find yourself constantly disappointed and longing for the glory days; or if you're a USA who's only really interested when you're winning and dismissive of the whole thing when you're not; or if you're a Scotland that ends up with the opportunity to play much less than you feel you deserve and often end up on the sidelines gaining hollow satisfaction from seeing your 'only slightly more talented' sibling country falling flat on their faces again… well then, perhaps, it's time to break the pattern and have a different experience..?
The Road To Your World Cup Heaven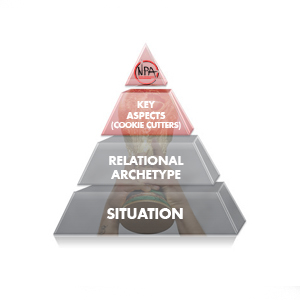 So, here's your chance for some self-inquiry. I could call it steps 1-4, but it's oh-so-much more fun to continue the metaphor:
You've gotta be in it to win it, so firstly you'll have to get through the qualifying stages. For that you're going to need to ask yourself what your 'World Cup' situation is? Then to survive the group stages you'll need to know who you are being in relation to that situation?
Next it's knock-out time and it'll take some fancy footwork to uncover which key aspects you'll need to leverage, to bring more freedom and ease to the situation. Pull all of this off, and you'll make The Final, where you can use a little NPA (the 'Pele' of tools for this kind of thing) and score the winning goal that can reset who you know yourself to be!
Defining Your 'World Cup' Situation
To help get you qualified for the main event, here's some qualities that define the World Cup and which you can use metaphorically to look at the defining your personal World Cup event:
World Cup Aspects Defined:
It's a sport, so there are winners and losers, with a series of events and a distinct outcome that defines that (add drama to taste)!

It is noteworthy on the 'sporting' calendar!

It happens regularly and repeatedly

There's a heavy investment of National identity in it. Lots of fire, passion and potential misery! (even though it's 'only' a sport)
So, to find the World Cup in your life, contemplate those aspects and ponder where this kind of pattern plays out in your life. If you want to sit back and be lead by the hand on this, skip to the bonus resources section and share the blog – then you'll have access to a handy bendy audio that will help find your personal World Cup.
Who Are You In Relation To That Situation?
Once you've got a specific situation in mind it's time to take an objective look at how it plays out. Imagine that it's not you, not your family, not your life – just a TV drama. Ask yourself:
How does it usually play out?
What role does my character play throughout? (Think in terms of archetype, stereotypes or symbolically)

What role does my character end up in?

What judgements are my character making?

Is there a clear emotional pathway and/or a switch point? (eg. a give up point, an explosion point, an impatience-leads-to-carelessness point)
Just watch the movie and contemplate these questions, getting a general sense of the role you play and how that pattern shows up.
A Couple Of Examples
Here's a couple of examples to give you the idea…
The Children's Clear Up Challenge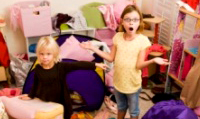 Your 'World Cup' event might be asking your kids to tidy their rooms? You notice you leave the asking for as long as possible – perhaps its a 4 week cycle. You seem uncharacteristically het up about it and the kids throw all kind of strops. You want to be 'strong Mum/Dad' but the tears and tantrums always seem to take the juice from the legs. You hit the crossbar, miss the goal – it never quite seems to go the way you want it. When it comes to this – you just seem to play out the role of the 'ineffective parent', and you feel disproportionately crushed.
The Financial Ex-Factor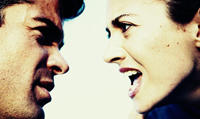 It's that time again when you need to ask your ex-husband for more money for the kids. It's always more of a drama than other conversations you have with him. You find yourself getting nervous before you call him, distrustful thoughts enter your mind, then angry thoughts – you know you play your best game when you're centred, but you can't help feeling meek. You fight the feeling and get angry with yourself – you know you've a perfect right to ask. Then you call. Sometimes he's just fine and agrees and what a huge relief. But sometimes there's a slight hesitation from him, a hint of resistance and you explode – you accuse him of sleight of hand with the finances, you've slipped into the role of 'hysterical ex-wife', a 'victim' – Â it's an own goal – you're devastated and bewildered… you don't even think that stuff… ouch.
And fella's on the other side of this one – you know there's equally complex emotions and identities at play here for you too! ♥
Shifting Identities with NPA
NPA is awesome for shifting identities. The NPA vernacular for them is 'cookie cutters' and they come in all shapes and sizes. Simply having an awareness of what you're up to and the roles you fall into in your personal World Cup is an empowering thing and awareness alone for sure can get things moving. However, super charging with non-personal awareness has a way of releasing these traditionally sticky identities at the speed of light!
So now you've got the situation nicely defined, you can apply some NPA, and here's some simple ways to do that:
4 Steps For Experienced NPA-ers:
1) Use a spew from the set up questions and contemplations in section 1 (the qualifying stage) to get a situational cookie cutter. Self elicit in your preferred way and choose the most animated cookie cutter.
2) Ask yourself: In relation to [Situational CC], who or what are you being?
3) Spew and elicit the most animated cookie cutter(s)
4) Run those cookie cutters through the NPA Process.
Simple Instructions For Newbies & Beginner NPA-ers:
Simply share this article via the bonus box and you will get access to a 6 min video that will take you through how to do the process. There will also be an outline of the NPA Process words themselves. There's a 'gap' in the process where you insert the cookie cutter you are using.
If you're a newbie simply use whatever role or roles you came up with that you play as your 'cookie cutter'.
So in the examples I gave above, the cookie cutter to use for The Children's Clear Up Challenge would be [ineffective parent]. And for The Financial Ex-Factor, there are two: [hysterical ex-wife] & [victim], requiring two processes. Obviously, it's going to be whatever role you are seeing yourself in, not the examples. Just put that in the process, say the 6 lines, including those words out loud and see what happens.
If you want to understand all those 'Experienced NPA-ers' terms and do really graceful NPA, you'll need to get some training via our comprehensive audio programme NPA: The Bridge or by attending an Event. You can also get direct assistance from me, and make a huge difference in your life HERE.
Bonus Resources For Sharing
I'd love you to share this article on your social networks, and doing so will give you instant access to the NPA Basic Training video, The NPA Process words AND a guided elicitation to help you through steps 1 & 2 described above.
[JY-General-Bio]
Artist credit: World Cup Selfie by Emma Allen – http://www.emmaallen.org/gallery/
Tweetables:
We hold distinct national 'identities', which directly relate to 'what we are like' in the World Cup. via @JoelYoungNPA
It's intriguing that the identification that nations take on in relation to the World Cup, play themselves out repeatedly. via @JoelYoungNPA
In our individual lives; we each have our own 'World Cup' event. via @JoelYoungNPA
NPA is The 'Pele' of transformational tools :0) Â via @JoelYoungNPA
Score the winning goal that can reset who you know yourself to be! via @JoelYoungNPA
NPA is awesome for shifting identities. via @JoelYoungNPA
Having an awareness of what you're up to and the roles you fall into is an empowering thing. via @JoelYoungNPA
Non-personal awareness has a way of releasing these traditionally sticky identities at the speed of light! via @JoelYoungNPA
Trust that you can work with whatever situation is showing up. via @JoelYoungNPA