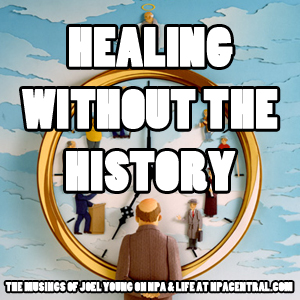 In this Musing on NPA & Life, I'm going to let you know why the story that we need to re-write our personal history in order to heal isn't necessarily true, and how NPA can help you find your natural path to healing; whatever that may be.
The Definitive Position
There are lots of 'stories' flying around in the world of human transformation, positive thinking and healing that are presented as 'the definite position'. One of the reasons I sometimes refer to myself as a '21st Century Heretic' is that I like to examine this new doctrine, with an intention of promoting a perspective of unlimited possibility, co-creation and ongoing evolution.
Most of these 'definitive positions' are taken because of an experience of things working that way. So there IS an element of truth to them.
THE Way To Heal
Let's take our topic-du-jour – healing. It would be true to say that many people have had tremendous success in healing by addressing their issues through following this idea:
"It took root as the result of something in my past, so if I can access whatever set things up this way and change the settings to something better, then I will heal"
The journey to your past can be fun. It can give the mind a recognisable, reason based and understandable story about what caused things to be as they are. It can also help relax the mind about the changes that are be-coming. It can be juicy and it scratches the itch of 'why?'
This can be a great thing and certainly, in some cases, it's A good way. But the leap from A WAY to THE WAY can be a trip to limitation and, perhaps even denial of an altogether simpler way.
Infinite Possibilities
The reality is that people all over the world are experiencing healing in a million different ways, with most of them not necessarily linking their healing to their past, or changing their thoughts, feelings or beliefs about their 'history' in any way.
I like to think that this demonstrates the kindness and flexibility of The Universe in how it answers our prayers – not just for healing, but for the journey of healing that will suit us best.
NPA is just a few simple words; six simple lines. Sometimes you don't feel a thing. Sometimes you do.
It doesn't lead you to some place 'not here' that you need to get to, in order to meet an idea of what it takes to heal. For example, you are not required to go to the past if that's not where you're hanging out naturally. You're not required to determine 'how that makes you feel' if your natural expression is not emotional. You are not required to figure out what you would have to believe in order to feel this way if you ARE experiencing emotions! NPA simply meets you where you are.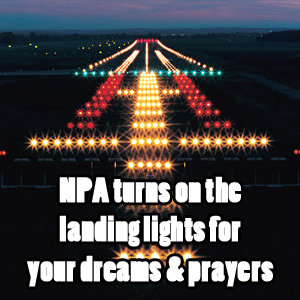 NPA has shown me time and again that spontaneous healings can just sort of happen.
And what I have seen much more often with NPA is that it works with our humanity. It honours our longing for the story of our lives. It respects our minds' childlike need for understanding and opens the way for the most appropriate mechanism to show itself.
You could say that NPA turns on the landing lights for your dreams and prayers. It makes the path that suits you best really clear, and facilitates a nice soft landing.
Life Has Space To Answer
That might be a spontaneous healing. Or it might be that you suddenly feel inspired to have a session in another healing modality – one that uses physical touch, or one that works with your thoughts or emotions – or perhaps even one that addresses the past!
Whatever it is, I often hear that the path is made clear, automatic even and that it runs smooth. Life has space to answer, and to answer in ways that work easily, naturally & sustainably for you.
With all these conflicting definitive positions flying around which tell you with conviction what is required for you to heal can get confusing. So, it's a wonderful thing to have NPA as A way to help your most natural healing path show itself to you. :0)
[JY-General-Bio]
More Tweetables:
"NPA has shown me time & again that spontaneous healings can just sort of happen" via @JoelYoungNPA
"It's a wonderful thing to have NPA as A way to help your most natural healing path show itself to you" via @JoelYoungNPA