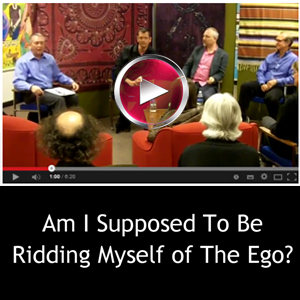 Thought I'd get 2014 rolling with a bit of hard-core spiritual heresy, and happened across some video footage from a panel talk I did with two excellent non-personal friends in Toronto last year.
So, here's an extract from: "An Evening of Dynamic Conversation on The New Wave of Non-Personal Development"
It's moderated by Dave Clark (President of the publishing agency – Solutions Inc.), and I was joined by Arnold Timmerman (Author of Leadingship – Exploring the essence of leadership dynamics) and Philip Shepherd (Author of New World, New Self – Coming to our senses in the 21st century).
Arnold & I had talked many times about doing an event like this, and it happened that our schedules coincided in Canada last May. It was a great bonus to be joined by Philip and have an opportunity to offer multiple takes on the non-personal perspective, spirituality and personal development.
Show Me The Heresy…
The particular aspect of heresy we express in this clip, is on the topic of The Ego. We take a look at where the non-personal perspective on it differs from much of the popular personal growth and spiritual dogma that's fashionable these days.
In this extract the conversation addresses topics like…
What is the nature of our authentic selves and who we think we are?

What is the impact of self inquiry on who we think are?

Does the Ego disappear when you become present?

How does the Ego relate to the human condition and Divinity?

Can you actually get rid of the ego?

What is the mechanism that creates the ego?

What is the mechanism that creates states of enlightenment?

What is the true nature of Unconditional Love?

How does conscious experiencing effect your life's purpose?
It's amazing what you can cover in a little over 6 minutes.
Enjoy The Video…
You Can Quote Us…
"When you start self-inquiry, you'll find that who we are is much more fluid than we think it might be"
Arnold Timmerman
"I don't even think about 'is my ego involved or isn't it' – I want to be fully present and whole"
Philip Shepherd
"The minute you start making anything in your experience bad or wrong you instantly step out of the availability of your wholeness"
Joel Young
Comments & shares are, as always, welcome! :0)
[JY-General-Bio]