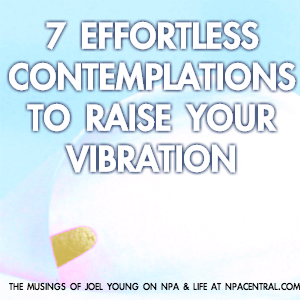 In this Musing on NPA & Life, I am inviting you to contemplate some non-personal notions & see where that takes you…
The thing about simply contemplating, and meeting any perspective as a notion (and folks – all we have are notions about the mystery) is that it invites an opening without agenda.
Agendaless-ness is at the heart of NPA and its a beautiful paradox that so much power becomes available as you loosen the grip of knowing and control, and allow the discovery to begin.
So contemplate these 7 notions i.e. read one, take a deep breath & close your eyes, ponder it, try it on for size and see what arises…
Just 1 minute on each will have a profound impact on your vibe… (longer would be awesome!) – it's your gift to yourself ♥
CONTEMPLATION 1: THIS IS WHAT PERFECTION LOOKS LIKE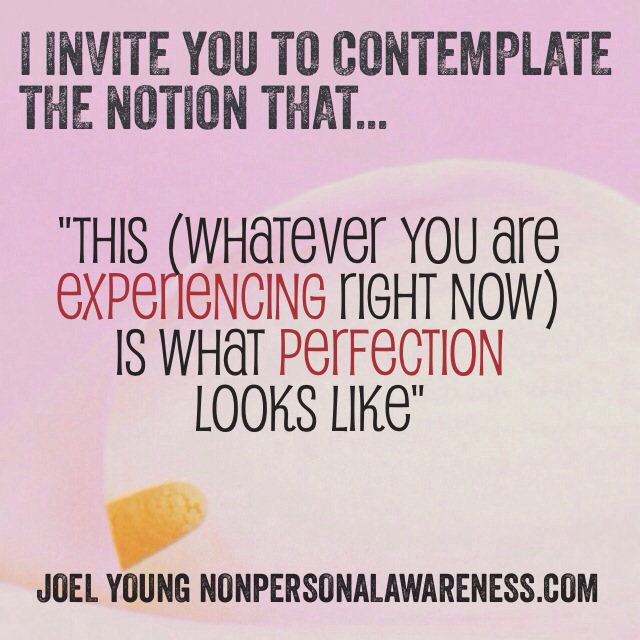 Perfection is not about Happy Clappy LaLa land in permanent stasis, it's about Divine Order – everything in the Universe exactly where it's meant to be, which is where it is, in each moment – "Reality", as Byron Katie puts it.
For you and your experience, that may be up, it may be down; a co-ordinate within the constant motion of Life.
In any case, I invite you to contemplate the notion that this (whatever you are experiencing right now) is what perfection looks like.
CONTEMPLATION 2: STUCKNESS IS IMPOSSIBLE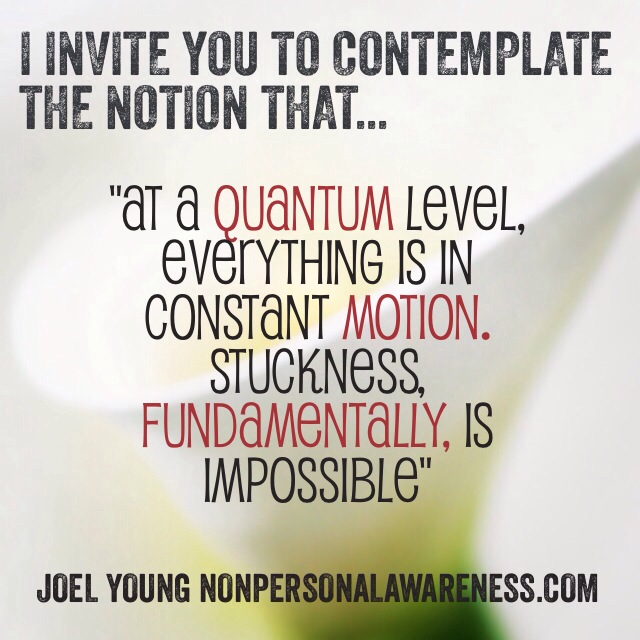 Everything is Energy. Energy exists in waves. Waves are in constant motion… constant motion is not stuck-ness, even though it can appear to be so…
So contemplate the notion that: "At a quantum level, everything is in constant motion. Stuckness, fundamentally, is impossible"
CONTEMPLATION 3: YOU ARE NOT THE ACTIVE FORCE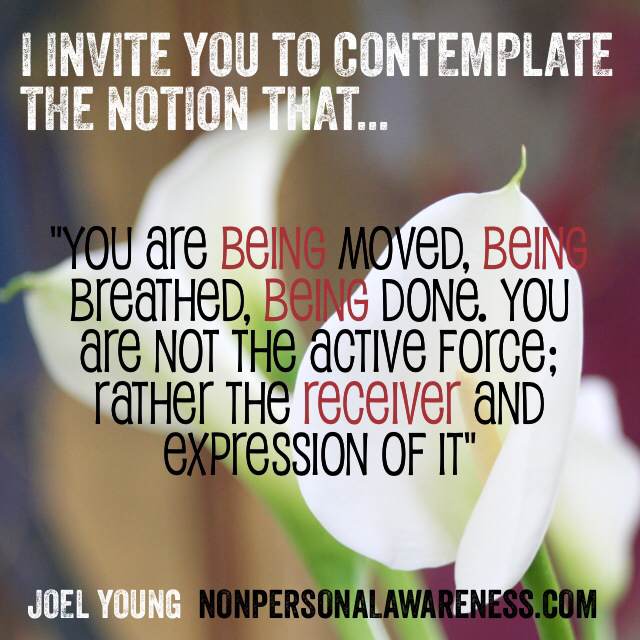 If you follow any thought, impulse or inspiration back to it's source you will very quickly get beyond the self. In may ways that Del Amitri song 'Always The Last To Know' speaks a profound truth of our personal experience.
We like to think we are in charge, in control, the decider, but there are stupendous, enormous beyond comprehension, out of this world crazy big creative forces at work. The possibility matrix accounts for the sum of the Totality of experience across the multiverses and the bottom line in each moment gets expressed through you via thought/impulse/inspiration/decision.
As Ramesh S Balsekar, one of my fave Enlightened Master's says: "Always a happening, never a doer"
At first this notion can seem disempowering and devastating to our inner control freak (we all have one), however this non-personal perspective soon reveals itself to be a liberation. Also, when you're done contemplating, you can check my previous post called Bad News For Control Freaks
So, I invite you to contemplate the notion:
"You are being moved, being breathed, being 'done'. You are not the active force; rather the receiver and expression of it."
Learn How You Can Make Rapid Positive Shifts…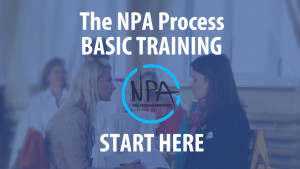 "This video programme will walk you step by step through the core training of The NPA Process and give you what you need to get started making a difference in your life right away with NPA."
CONTEMPLATION 4: CHILDREN OF GOD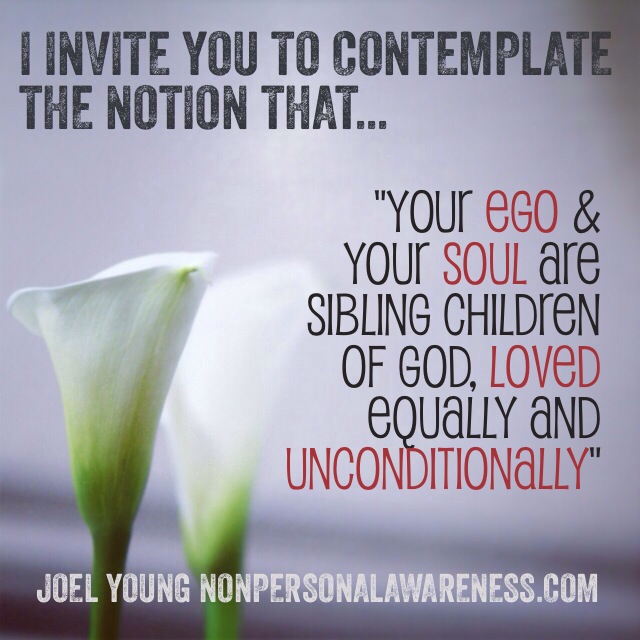 Sit with this one, especially if your road to healing, or path to awakening finds you judging, belittling, labelling as 'less Spiritual' or attempting to 'rid' yourself of any particular experience or aspect of yourself…
Contemplate notion 4: "Your Ego & your Soul are sibling children of God, loved equally and unconditionally"
CONTEMPLATION 5: IF YOU PARENT YOURSELF…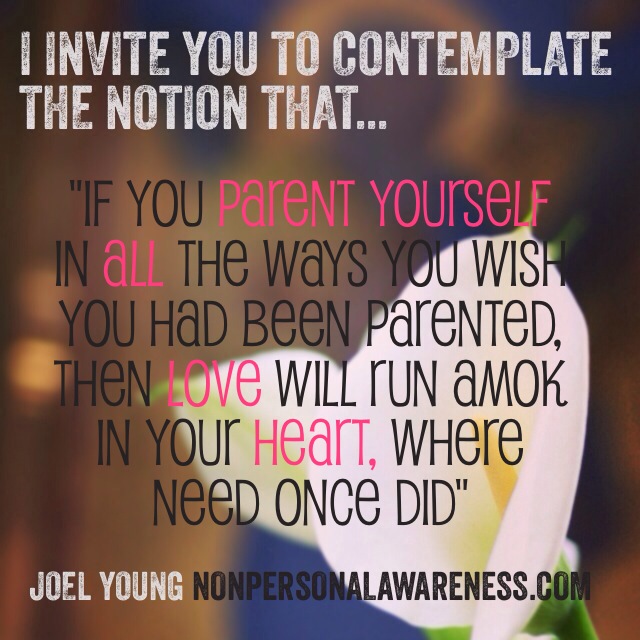 In my many years of self-healing and working with countless clients, I noticed that most painful behaviours were born from 'child' consciousness' or young identities looking for something… Love, protection, acknowledgement, understanding etc etc…
The child energy seeks parental energy… And yet we tend to "personalise" parental energy, and therefore limit it's origin, to our parents and carers.
So if the flow of parental energy through these fine people is shaped in a way that didn't connect with our various child energies, an unmet need is generated.
The good news is that parental energy is non-personal and can joyfully flow through you to your child energies in exquisitely precise ways.
Through this notion I was liberated from my personal history, so I invite you to contemplate…
"If you parent yourself in all the ways you wish you had been parented, then Love will run amok in your heart, where need once did"
There's also a more in depth blog on this subject HERE
CONTEMPLATION 6: YOUR MIND JUST OPENED…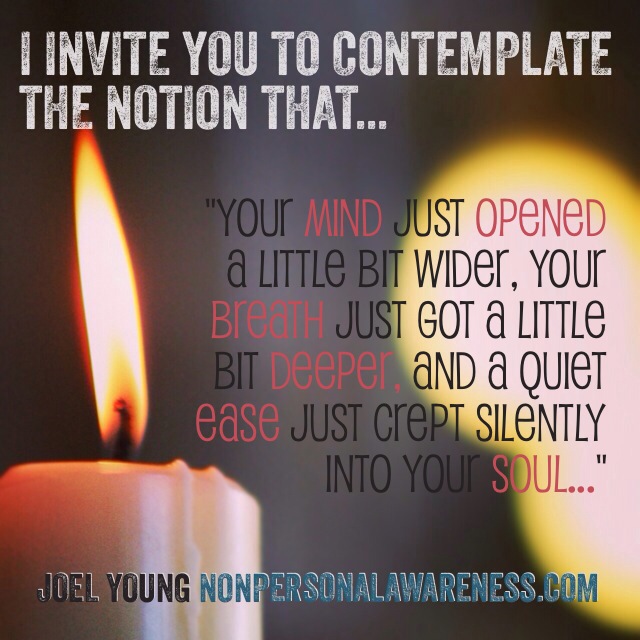 Aligning with the forceless force that animates all experience is only a contemplation away. And the forceless force is EXPANDING the entire Universe – at a physical and quantum level, so I invite you to align with it as you contemplate the notion…
"Your mind just opened a little bit wider, your breath just got a little bit deeper & a quiet ease just crept silently into your Soul…"
CONTEMPLATION 7: BEING YOU IS THE GIFT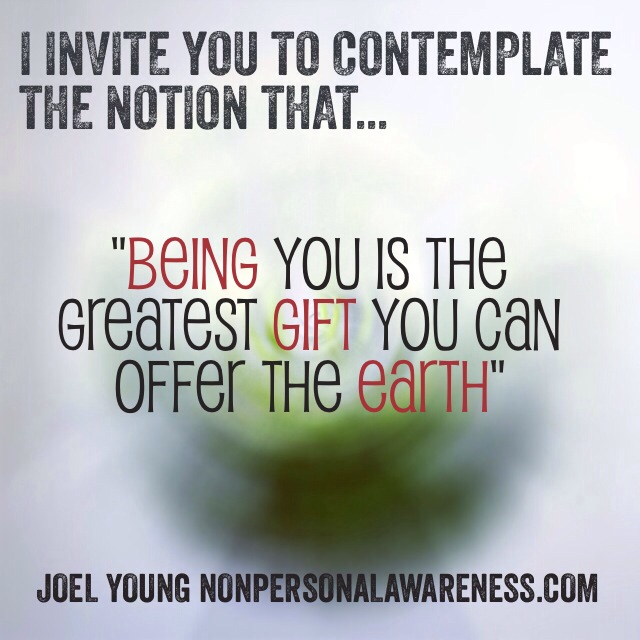 As we come to the end of this series of contemplations, let's contemplate a little deeper…
Notion 7 is: "Being You is the greatest gift you can offer the Earth"
So what is 'You'?
Who are 'You'?
What does Being You look like?
There are lot's of 'standard' spiritual answers to these questions… I am everything, I am nothing, I am a spiritual being in a human body… yada yada…
And I would invite you to contemplate the notion WITHOUT the baggage of Spiritual knowledge…
"Being YOU is the greatest gift you can offer the Earth"
Contemplate… Ponder… Wonder…
And enjoy the presence of discovery….
——-
I hope these notions have stirred you, moved you, touched you or awakened something in you – even if it's confirmation of your own perspective… And if they have please pay it forward and share this blog <3
[JY-General-Bio]
Tweetables
Contemplate the question 'Who am I?'Â WITHOUTÂ the baggage of Spiritual knowledge (via @JoelYoungNPA)
Contemplate, Ponder, Wonder… and enjoy the presence of discovery…. (via @JoelYoungNPA)
"Being YOU is the greatest gift you can offer the Earth" @JoelYoungNPA #quote
"Aligning with the forceless force that animates all experience is only a contemplation away" @JoelYoungNPA #quote
A forceless force is EXPANDING the entire Universe at a physical and quantum level; I invite you to align with it (via @JoelYoungNPA)
"Most painful behaviours are born from 'child' consciousness' or young identities looking for something" @JoelYoungNPA #quote
"The child energy seeks parental energy. But we personalise the energy & limit it's origin to our parents and carers" @JoelYoungNPA #quote
"Your Ego & your Soul are sibling children of God, loved equally and unconditionally" @JoelYoungNPA #quote
In may ways that Del Amitri song 'Always The Last To Know' speaks a profound truth of our personal experience :0) (via @JoelYoungNPA)
We like to think we are in charge, in control, the decider, but grand energies prior to consciousness are more causal than our personal choices
"The possibility matrix accounts for the sum of the Totality of experience & expresses it as impulse/inspiration/decision" via @JoelYoungNPA
"Always a happening, never a doer" Ramesh S Balsekar (via @JoelYoungNPA)
"At a quantum level, everything is in constant motion. Stuckness, fundamentally, is impossible" @JoelYoungNPA #quote
"Perfection is not about Happy Clappy LaLa Land in a permanent positively biased stasis, it's about Divine Order" @JoelYoungNPA #quote
"Meeting any perspective as a notion (& all we have are notions about the mystery) invites an opening without agenda" @JoelYoungNPA #quote
"So much power becomes available as you loosen the grip of knowing and control" @JoelYoungNPA #quote #wisdom