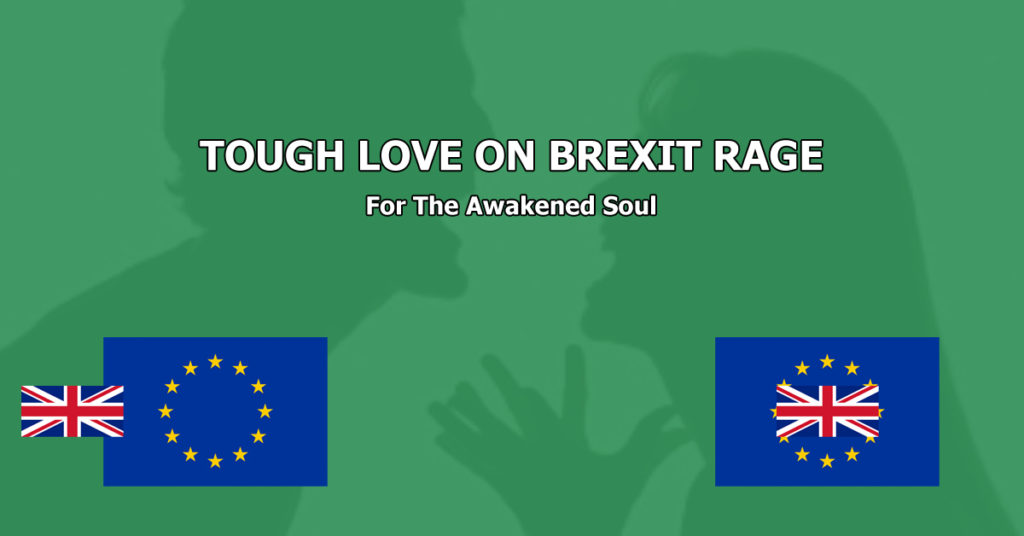 OK, so the UK voted to leave the EU… what now my awakened friend?
I see a lot of anger, sadness, outrage and, frankly, pain and suffering on social media today… based on what?
Well, it's obvious isn't it? Everything's going to sh%t!
Well, it's obvious isn't it? We should hang our heads in shame!
Well, it's obvious isn't it? We should attack those that voted to leave!
The reality is, we just don't know 'what now' in practical, legal and economic terms. There's good evidence for various scenarios, but even the genuine 'experts' (you know, the people that actually know what they're talking about) state very clearly that the only thing we know for sure is that we don't know how a decision to leave the EU will play out…
Projections and assumptions is all we have to go on…
So I wanted to invite you to look a little deeper…
Let me ask you this:
Have you ever been surprised by your own decisions? Done something you thought you'd never do? Something that, at the time, you thought was bad?
I know I have, and on each occasion, though it may have precipitated surprise, change, massive disruption and often pain… at some level there was healing and growth underneath it.
My Soul, as I see it, had decided it was time to bring light to some aspect of my shadow… to set it free… enlighten it… In accordance with my prayers and intentions…
What you may not have thought about, or realised is:
The UK has a Soul.
All countries do, as part of their collective consciousness and identity. Nations (and anything with a defined boundary) are Beings in their own right. And if you are a UK citizen, then you are part of it. Like organs and cells are individually themselves, but also part of you.
So let me speak to something bigger than your personal, localised self… your personalised local Soul even…
And let me ask you this:
Are you willing to stay with your 'self' in the face of the healing that's being asked for from your Soul? Or will you shy away, splinter off in anger and self recrimination? For as you rage and persecute those that voted to leave for 'their ignorance' you split the very thing you say you love, and prolong the pain.
The personal responses to the national decision very much reflect our responses to ourselves when we believe we have f*%ked things up.
I believe you are interested in a conscious, healing response to the reality of the situation…
So, let's break it down:
I've stated these reactions in a pretty bold way, and you might say "I don't think that"… just be aware that I've used these terms to highlight the essence of the reaction in a very obvious way, however they can show up in more subtle and 'civilised/rational' ways. And in anywise, it's an invitation to ask yourself if these are happening within you…
REACTION 1: Everything's going to sh%t!
Our minds are natural "Disaster Movie Making Machines". You know this! So I invite you to examine your assumptions with some genuine self inquiry if you're generating suffering in yourself by believing your minds scary story.
You can ask Byron Katie's amazing questions, starting with "Is it true?"
REACTION 2: We should hang our heads in shame!
At the heart of this is an identity issue. You've taken the decision personally and attached a meaning to our national identity (including you) based on the decision we've made that is causing you pain. Shame and self condemnation my friend is pain.
Freeing up painful attachment to your sense of identity isn't about denying your actions or their consequences. It's about dropping the paralysing, disabling disempowerment, bringing clarity and freedom of movement to respond wholesomely in presence.
The NPA Process works directly with identity issues and is great for helping you step out of blocks which come from identity shifts. It empowers you to stop beating yourself up and start taking clear positive action at times like these. It also frees you up to allow IN the new sense of self that your Soul is calling for.
REACTION 3: We should attack those that voted to leave!
So you feel angry. I get it.
Things didn't go as you wanted or expected… An idea about the future has been shattered. And you're scared.
Anger can be a tough emotion to sit with. I get that too.
That's why we tend to avoid it.
That's why we project it out. Look for someone to blame.
"Those ignorant idiots! How could they do it?"
This doesn't address the emotion directly. It doesn't take the healing opportunity that's being offered and it puts YOU firmly in the victim roll… which. I'm guessing, ISN'T where your heart lays…
You might expect me to say "Don't be angry, it's all as it's meant to be" yada yada…
But that isn't real is it? If you're feeling anger… FEEL it. And I mean really feel it. Sit your ass down and let the pure anger come. It's a wave, and like all emotions it comes to pass. The avenue of passage is direct and full experience… projecting it out is just playing tennis with it.
Letting it truly come to pass, again, will free you from unconscious pain inducing responses AND most likely bring you the gift of awareness about where this national decision hooks you at a personal level. All good!
You can certainly use NPA to help you fully experience this, and there are lots of modalities which encourage you to do this, including Transformational Breathing, Vipassana style meditation and more.
A great method for directly sitting in emotions, which I have practiced and taught all over the world, is The Journey… So I have included a link to that in a list of resources below.
Tough Love
I've called this tough love, because I believe we're in a time where we are being called to USE the knowledge we have as awakened, conscious folk. I've seen a lot of these reactions from a lot of conscious people this morning… Including myself!
I felt, literally, moved to write this and I hope it serves you to bring greater peace, grounded-ness, consciousness and freedom when the energy in the air is a little bit crazy.
Please do share this if it resonates.
Much Love
Joel
RESOURCES:
The Work of Byron Katie: www.TheWork.com
The NPA Process: www.NonPersonalAwareness.com
The Journey: www.TheJourney.com
[JY-General-Bio]